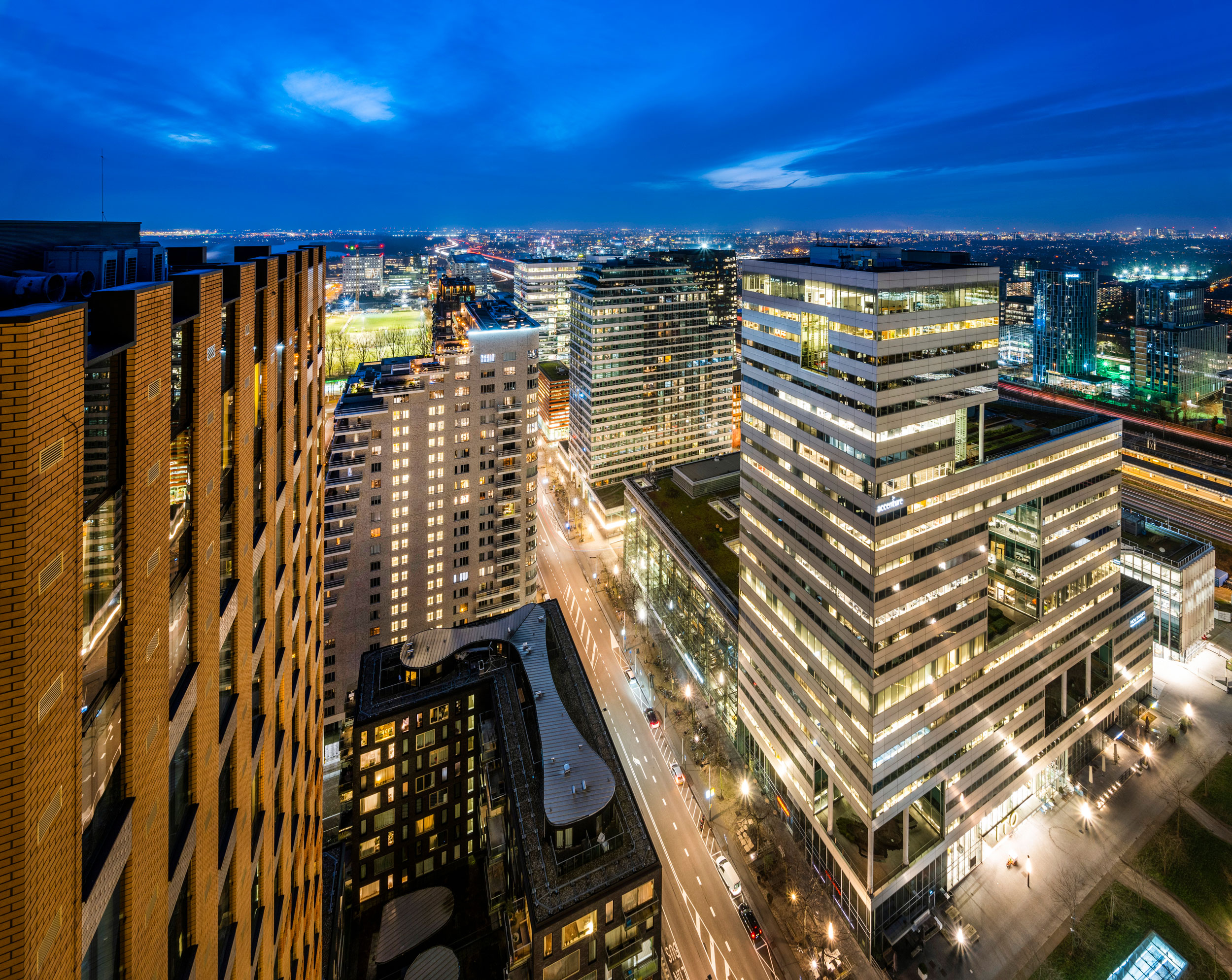 Symphony Offices is a true landmark, prominently located at one of the most visible locations in the heart of the vibrant business district Amsterdam Zuidas. This high end office building offers excellent hospitality services and contributes to the high-quality appearance of its tenants.
Symphony Offices has two entrances; the main high rise entrance located at the corner of the Gustav Mahlerplein/Gustav Mahlerlaan, and the second low rise entrance at the Gustav Mahlerlaan.
Symphony Offices offers a 24/7 manned reception / hospitality desk with an appealing ambiance. The lobby is fully renovated in 2020 and transformed into a contemporary, luxurious space with a coffee corner, informal seating & break out area. In addition to the hospitality and security team, there is an onsite building manager who is responsible for the daily operations and the first line of contact with the tenants of the building.
There are two restaurants at the ground floor of the building; a company restaurant for the daily lunches of tenant's employees and a à la carte restaurant for business lunches and dinners. Both restaurant are scheduled to be refurbished in 2023.
Symphony Offices offers a 125 person auditorium at the first floor for larger conferences, presentations or training sessions.
Symphony Offices offers the possibility to lease parking subscriptions in the Q-park parking garage underneath the building based on a unique parking ratio of 1:70.
The Amsterdam Zuidas is an outstanding location for working, living and recreation in an area with optimum infrastructure. Zuidas has its own NS-trainstation "Amsterdam Zuid"  and has two exits  from the ring road A10. Symphony is located in the heart of the Amsterdam Zuidas and in the direct vicinity of a wide range of amenities such as restaurants, coffee bars, gyms, shops and supermarkets. Zuidas offers a vibrant high end 24/7 lively area of international allure.
Rental prices as from EUR 425,- p/sqm/annum
14th floor – 1,083 sq m – immediately
15th floor – 1,083 sq m – immediately
16th floor – 1,083 sq m – immediately
Disclaimer
Although the information on this website has been compiled with the greatest care, no rights can be derived from its contents. The published images provide inspiration for a possible delivery, but no guarantees are given for this.